Using space underneath a bed is definitely a must when you have a small bedroom.  I shared a picture of my boys' room yesterday…what you can't see are the boring/cheap cardboard boxes underneath their beds that store toys.  Most of our toys are kept in our basement playroom, but my boys love to have little toys in their rooms also.  And my rule is they can keep as many toys under their beds as they can fit into the cardboard box under their bed.  It works, but it is definitely not as nice as the beautiful white drawers under the bed in the Room of the Week.
I did a little search for some ideas to replace my cardboard box with something I don't have to hide in photos…ha!
OPTION #1: The store-bought version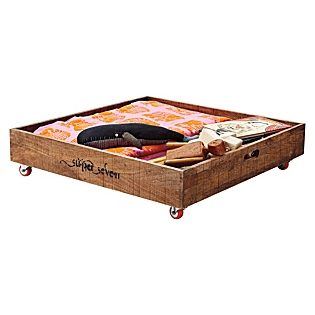 In a perfect world I would just buys two of these rolling crates from Serena & Lily and call it a day.  While that's not going to happen, it is good inspiration for a DIY project.
OPTION #2: The DIY version
Two old drawers, two sets of wheels.  Seems like a simple weekend activity that would make my little boys extremely happy…me too!
Do you have any clever solutions for storing things under the bed?  Please share!